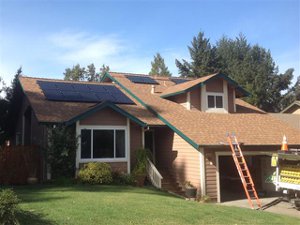 In October 2014 I had Solar Panels installed on my 7 year old roof. I did my homework and found that leasing solar is not a good option for several reasons:
Solar lease contracts are for 20 years! If you sell your home within those 20 years, be prepared to pay the consequences. A potential buyer has to qualify to take over the remainder of your solar lease. If the leasing company requires a FICO score of 730 and your buyer is a 700 then take a hike, Charlie!
You aren't really saving much money by leasing solar panels. Instead of paying your local electric company, you are paying someone else. Maybe the bill is slightly less, but why let someone install personal property on YOUR roof to save $15 a month?
Leased solar panels do not add anything to the value of your home. Purchased solar panels do.
And now for the kicker ... when the solar lease company installs panels on YOUR roof, THEY get to use YOUR tax credit, not YOU. That would be 30% of the cost of the solar installation, we are talking thousands of dollars here.
So I purchased a solar system instead of leasing and now it is time for an update. I saved an average of $85.00 a month for 12 months, then received a check for $115.85 from the electric company for the surplus of power generated that I didn't use. My first year savings for installing solar panels is $1135.85. Every year, as electricity rates go up, I'll be realizing even more savings. At this pace, the panels will have paid for themselves in about 7 years. From then on it is free electricity, baby!!
So tell me, do you think that a home with purchased solar panels is going to sell quicker than a home with a leased solar system? Absolutely. Think twice before letting someone talk you into leasing solar, it really isn't a good idea for anyone except for the salesman trying to talk you into using "clean power".